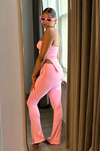 Barbie Dream Pink Pants Set
Shipping calculated at checkout.
Get ready to embrace curves and confidence with the Barbie Dreams Pink Pants Set. This super chic look features a double-lined, ultra-stretchy fabric that's as comfortable as it is stylish. With its flattering design, this set effortlessly enhances your silhouette, giving you the Barbie-inspired flair you never knew you needed.
Model is wearing size small.
Key Features:
Strapless Top: The strapless top is amazing. Designed with side slits exposing the hip area, it creates a flattering look and the illusion of curves.

Flared Pants: The pants are a versatile addition to your wardrobe. With ankle slits that mirror the top's design, they create a cohesive and fashionable look.

Ultra-Stretchy Comfort: The double-lined, ultra-stretchy fabric ensures a snug fit that moves with your body. Feel at ease while exuding style, whether you're on the go or kicking back.

Your Inner Barbie: With the Barbie Dreams Pink Pants Set, you're embracing the elegance and confidence that Barbie represents. Step into a world of sophistication and style, exuding charm and grace wherever you go.

Versatile Chic: Perfect for various occasions, from casual outings to girls night or date night. Whether you're out with friends, attending a stylish brunch, or making vacation memories, this set will be perfect for the occasion.
Channel your inner Barbie and make a statement with the Barbie Dreams Pink Pants Set.