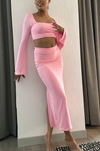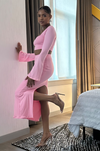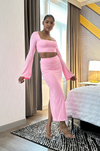 Sophisticated Barbie | Pink Midi Skirt Set
Shipping calculated at checkout.
Step into sophisticated comfort with the "Sophisticated Barbie" Set - a pretty matching outfit featuring a pink midi skirt and a cute long-sleeved crop top. The fabric is double-lined and super stretchy for a perfect fit. The skirt falls below the knees, making it suitable for tall and short girls alike. The crop top has a flattering square neckline and bell-like sleeves for a playful touch.
This set is perfect for date nights, hanging out with the girls, brunch, vacations, and any occasion where you want to feel good and look fabulous!
With the "Sophisticated Barbie" Set, you can be your own Barbie - confident, stylish, and comfortable. Embrace both fashion and ease with this versatile outfit that's designed to make you stand out and feel amazing.
Model is wearing size small.
Key Features:
Pink Midi Skirt: Elevate your style with the chic midi length skirt that graciously falls below the knees. The figure-flattering silhouette makes it ideal for both tall and short individuals, accentuating your curves and adding a touch of grace to your stride. The soft and stretchy fabric molds to your body, providing comfort and ease throughout the day.

Matching Crop Top: The long-sleeved crop top exudes elegance and sophistication with its alluring square neckline. The bell-like design of the sleeves adds a whimsical flair, allowing you to embrace your playful side while looking effortlessly chic. The comfortable fabric hugs your curves in all the right places, giving you a flattering and stylish look.

Versatile Fashion: The "Sophisticated Barbie" Set is your go-to choice for various occasions. Whether it's a romantic date, a brunch with friends, a vacation escape, or any feel-good event, this set radiates timeless charm and contemporary allure.

Unmatched Comfort: The double-lined and ultra-stretchy fabric ensures maximum comfort and a seamless fit, allowing you to move with ease and confidence. Embrace both style and comfort in one delightful package.

Be Your Own Barbie: With "Sophisticated Barbie" Set, you embody the essence of sophistication and elegance. Channel your inner Barbie and let your beauty shine as you make heads turn wherever you go.