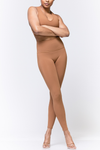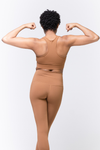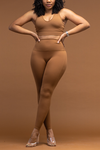 The Athleisure Set | Deep Camel
Sale price
$24.99
Regular price
Shipping calculated at checkout.
The perfect set for the days where you planned to go to the gym, but ended up at Home Goods and Target instead with drink from Starbucks in one hand and your debit card in the other. NO workout mats in sight. Just needed to be comfortable for an eventful and high energy day of walking up and down the aisles looking for something to buy during your weekly outing away from the kids and the husband... Or maybe you actually do workout! And in either instance, this is the set for you!
racerback cropped tank with matching leggings
out of this world stretch
fantastic fit that will hold you in
super breathable and durable fabric
Simone is wearing size small
Chi is wearing size large
82% polyester, 18% spandex
approximately 26" inseam
Amazing quality and color.
Amazing quality and color.