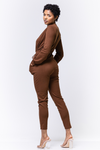 Sweater Knit Jumpsuit | Chocolate
Shipping calculated at checkout.
Introducing the Knit Jumpsuit of your dreams!
Say goodbye to morning outfit dilemmas. Who has time to pair separates together when you're low on time? This jumpsuit is your one-piece solution to effortlessly getting dressed.
Crafted with a plush and breathable blend of 92% polyester and 8% spandex, this jumpsuit feels like a warm hug for your skin. It's soft, stretchy, and oh-so-comfortable – perfect for tackling your day with ease.
Simone is wearings 5'8 wearing size small.