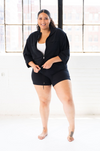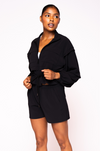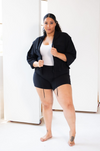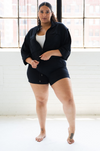 Sporty Chic Jacket & Shorts Set | Black
Sale price
$49.99
Regular price
Shipping calculated at checkout.
The new Sporty Chic Jacket & Shorts is designed to offer you an instant outfit that is both fun and feminine, with a touch of sporty flair.
The set includes a slightly cropped jacket and shorts made of 90% polyester and 10% spandex, ensuring a lightweight and comfortable wearing experience.
The jacket can be worn zipped or unzipped, allowing you to customize your look based on your mood and the occasion. For a playful touch, simply cinch the drawstring to create a slightly peplum look, adding a feminine and flattering silhouette. The jacket also features chest pockets for a functional and stylish detail.
The matching shorts are crafted from the same crinkle woven fabric and feature an elastic waistband, providing a comfortable and adjustable fit. With pockets for added convenience, these shorts combine practicality with style.
Paige is wearing size 1X.

Simone is wearing size small.