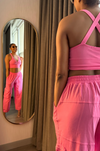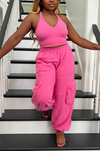 Loungewear Barbie | Pink Cargo Pants Set
Shipping calculated at checkout.
No need to be late to the party, Barbie. We have the perfect set for you and it's sure to elevate your loungewear game. It's a super stylish loungewear set that brings a touch of fun to your basis loungewear collection.
Embrace comfort without compromising on fashion as you slip into these French Terry Cargo pants and the matching crop top with a playful criss-cross back design. This set is a must-have addition to our Barbie-based collection, designed to make you feel like the fashion-forward Barbie you've always admired.
Model is wearing size small
Pants are oversized
92% cotton, 8% spandex
Color may vary due to screen resolution
Key Features:
French Terry Cargo Pants: Crafted from high-quality French Terry fabric, our cargo pants blend softness and durability for all-day coziness. Embrace the relaxed fit and cargo-style pockets that not only add a trendy touch but also provide functional storage.

Matching Crop Top: The matching crop top is the epitome of style and comfort. Its pretty pink hue perfectly complements the cargo pants, creating a coordinated look that will turn heads. The criss-cross back design adds a touch of flair, making you stand out in any casual setting.

Versatile Style: Dress up or down with ease. Pair this delightful set with your favorite sneakers for a casual, chic look, or accessorize with heels and statement jewelry for a touch of glamour on your nights out.

Perfect Pink: Embrace your inner Barbie with the enchanting pink hue of "The Loungewear Barbie" Set. Radiate positivity and style as you flaunt this captivating color that suits any skin tone.