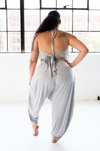 Harem Pants & Halter Top Set | Heather Grey
Sale price
$39.99
Regular price
Shipping calculated at checkout.
Introducing the Harem Pants and Halter Top Set - the epitome of boho-inspired comfort and style! This set is designed for the loungewear lover who appreciates comfort without compromising on fashion.
The harem pants are oversized and incredibly flowy, allowing for unrestricted movement and a breezy feel. The halter top features a unique open-back design, adding a hint of sexiness to this look.
95% rayon, 5% spandex

35 inch inseam

Paige is wearing size 1X