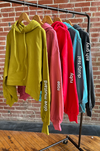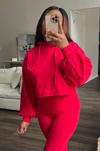 French Terry Cropped Hoodie
Sale price
$19.99
Regular price
Shipping calculated at checkout.
Your new favorite hoodie just landed. Our cropped hoodies are perfect for transitional weather. They are super lightweight -- not fleece lined so you won't have to worry about sweating.
Pair yours with our Pocket Leggings, Sweatpants, Joggers or Ribbed Seamless Leggings -- whatever fits your mood.
100% cotton
Jance is wearing size small

Available in 5 colors