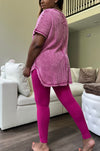 Waffle Legging Set | Magenta
Shipping calculated at checkout.
No such thing as too many legging sets, especially when they're this cute. We're taking our legging set game up a notch with the new must-have Waffle Top Legging Set.
It features a relaxed fit top that'll cover your bottom. The fabric is durable but light weight for the warm weather months.
Available in 3 colors. 
Model Details:
Jance is wearing size SM
Kelsey is wearing size 2X
Top
100% Cotton
Round hem
Total Body Length: 27"
Leggings: