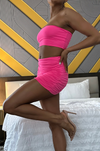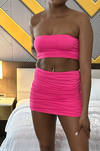 Club Hopper Barbie | Pink Mini Skirt & Tube Top Set
Shipping calculated at checkout.
Step into the night with confidence and style in the "Club Hopper Barbie" Set. This super cute set features a double-lined tube top and a matching mini skirt in a vibrant shade of pink. Designed for comfort and style, this set has incredible stretch, making it the perfect choice for a hassle-free and chic night out.
Model wearing size small.
Key Features:
Versatile: Whether you're stepping out for a night of dancing or enjoying a fun outing with friends, this set is your go-to companion. Dress it up with heels for a sophisticated look or opt for sneakers and a denim jacket for a playful edge. Scrunch the skirt up or down.

Homebody's Delight: For the homebodies who occasionally venture out, the "Club Hopper Barbie" Set offers the perfect blend of elegance and ease. Effortless fashion meets the needs of those who prefer comfort but still crave the occasional night of excitement.

Own the Night: As you slip into the "Club Hopper Barbie" Set, channel your inner Barbie and embrace the allure of the night. Experience the balance between relaxation and fun as you paint the town pink.