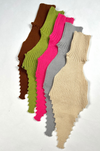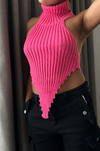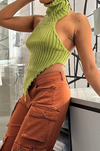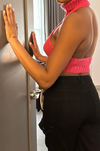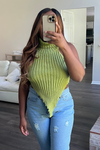 Cable Knit Sleeveless Turtleneck Knit Halter Top
Shipping calculated at checkout.
Add some fun to your fall wardrobe with the new Cable-Knit Sleeveless Turtleneck Top. Crafted from 100% polyester sweater-knit material, this sleeveless halter top brings a touch of sophistication to your casual ensemble, whether you're dressing up for a night out or embracing a laid-back day.
Key Features:
Cable-Knit Elegance: The cable-knit design adds texture and depth to your outfit, giving you a chic and cozy look that's perfect for any occasion.

Open Back Appeal: The open back detail adds a flirtatious touch while keeping you comfortably cool. It's a fusion of elegance and playfulness that's perfect for adding a hint of allure to your style.

V-Hem Knit Detail: The V-hem knit detail adds a modern twist to the classic cable-knit design, creating a flattering silhouette that enhances your shape.

Endless Styling Possibilities: Pair this halter top with your favorite jeans, leggings, or any casual bottoms for a stylish ensemble that's both comfortable and chic.
Experience the perfect blend of fashion and comfort with this new top. Whether you're meeting friends for a coffee or stepping out for a night on the town, this top is your go-to choice for adding a touch of elegance to your look.